AFFF presents $61K donation for project at new city park Wounded Warriors Abilities Ranch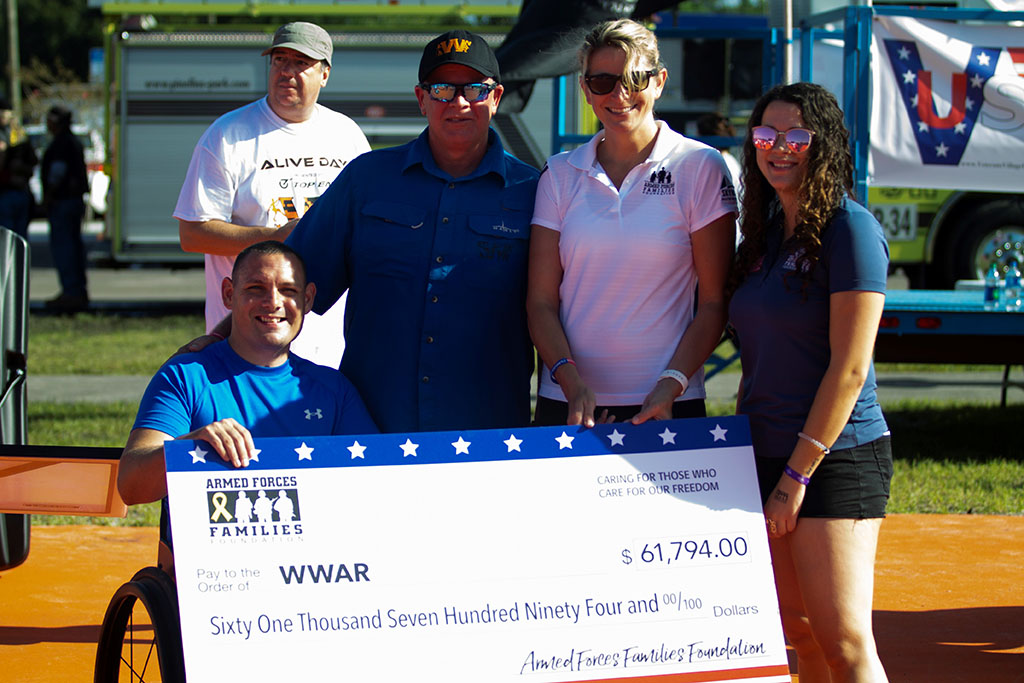 Wounded Warriors Abilities Ranch
Pinellas Park, FLA. – Sept. 1, 2018
The Armed Forces Families Foundation helped kick-off the grand opening of Wounded Warriors Abilities Ranch, a new outdoor recreation area at Lurie Park in Pinellas Park, Florida. During the event, representatives from AFFF presented a ceremonial check totaling $61,000 for the construction of a new handicap accessible pavilion at the new park. The funds used for the project were raised through AFFF by donations and fundraising events like the Skyway 10K.
In addition to the check presentation, team members from AFFF were on-site throughout the day's festivities and hosted an informational booth about the charity and its upcoming community projects.
"We are happy to be able to provide support for Wounded Warriors Abilities Ranch and to be a part of their Alive Day kick-off event," said Niki Austin, a spokesperson for AFFF. "WWAR is an amazing resource for our veterans, their families and the entire Pinellas community."
The large pavilion funded by AFFF was constructed prior to the grand opening and will now serve as a shaded gathering point for the park and will allow veterans and their families to enjoy picnics, outdoor entertainment and community events, while connecting with one another.
The Wounded Warriors Abilities Ranch is a city park open to the general public but will focus on serving as a resource center for wounded veterans by offering activities, equipment and facilities that are fully handicap and wheelchair accessible. The park features cycling trails, a multi-purpose court, an accessible workout station with ADA-compliant fitness equipment, dog park, children's playground and a memorial garden to honor fallen soldiers of Pinellas County.
The park is an important community resource due to its close proximity to two VA hospitals, including the CW Bill Young Department of Veterans Affairs Medical Center, which is one of the nation's premiere treatment and rehabilitation centers for injured veterans, and the James A Hayley VA Hospital, which is one of two top specialist spinal cord injury hospitals for veterans. Additionally, Pinellas County is home to many veterans and their families with a veteran population of 88,360 in the county as of 2016, many of whom suffer from an injury sustained either in conflict or after service.
In addition to the park, Wounded Warriors Abilities Ranch is a local charity organization that is completely volunteer-operated led by local wounded veteran Mike Delancey in partnership with the City of Pinellas Park. The mission of the WWAR is to inspire, motivate and strengthen warriors by providing various recreational activities in a safe and relaxing environment.