Second phase expansion completed at USO Corry Station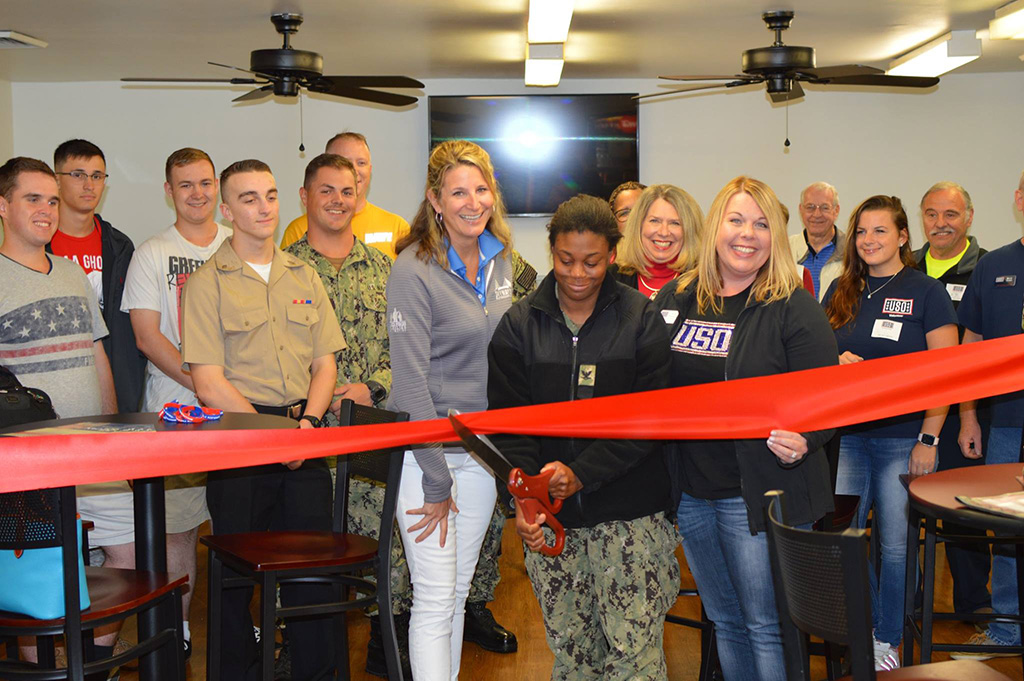 USO CORRY STATION
NAS PENSACOLA – Nov. 17, 2018
On Nov. 17, the Armed Forces Families Foundation, a charity organization helping military members and their families in the Southeast U.S., and the USO of Northwest Florida hosted a ribbon cutting ceremony to celebrate the expansion of the USO center located at the Information Warfare Training Command Corry Station.
AFFF donated over $73,000 to fund the second phase expansion at the center, which included remodeling an additional 1,400 square-feet of unused space to complete the full 2,700 square-foot USO center. The newly upgraded space required extensive demolition and construction to make way for a larger arcade, study, quiet area, outdoor recreation area and the creation of a children's play area. Funds were also used to purchase additional furnishings and needed supplies.
During the ceremony, volunteers from AFFF, USO staff, service members and other supporters were on hand to cut the ribbon and welcome the reopening of the expanded center.
The project allows USO Corry Station to fully leverage the size of the space and enhance the services they provide to over 3,000 service members and their families each month.
"AFFF has been an integral part in not just this project, but many others at the USO. We can't wait to keep seeing more and more happy faces using this new facility," said a team member from the USO of Northwest Florida.
On Aug. 30, 2017, AFFF donated a total of $49,006 for the first phase of development at USO Corry Center, which involved the renovation of an existing facility gifted to the USO by the Department of the Navy. The donation helped fund the creation of a 1,300 square-foot recreation lounge, which included arcade games, high-speed Wi-Fi, flat-screen televisions, a study bar with laptops, a self-serve kitchen and rest area with couches. Additionally, an outdoor recreational space was also developed for special events, like BBQ's, lawn game tournaments and holiday celebrations.
In 2016, AFFF also provided $26,282 in funding to upgrade furnishings and entertainment systems within USO Naval Air Station Pensacola.
If you'd like to volunteer with the USO of Northwest Florida or learn more, please visit https://northwestflorida.uso.org/support/volunteer-with-us.