Taco Bell, IHOP locations raise over $320,000 for military families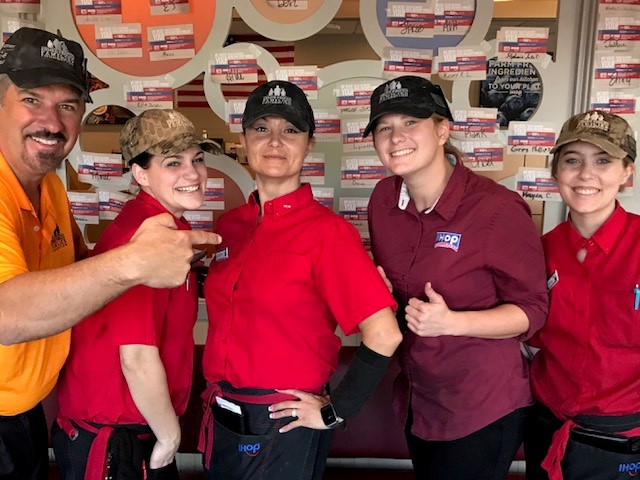 100 percent of donations raised will be used to fund projects to benefit military families
TAMPA, Fla. – The Armed Forces Families Foundation, a 501(c)(3) non-profit organization dedicated to helping military families, announced on Wednesday that a total of $323,684 was raised during their annual fundraiser, with the support of participating Taco Bell and IHOP locations.
AFFF's annual fundraising drive was held from Nov. 1-21, 2017 and included nearly 400 participating corporate and franchise Taco Bell and IHOP locations throughout the Southeastern U.S.
Through this campaign, funds received at participating restaurants will stay in the area where they were raised to help fund local projects that support military members and their families.
"We are extremely grateful for the generosity of those who helped make our fundraiser an overwhelming success. The support we received from the public and our partners this year will help us to continue our mission and begin implementing new projects that benefit military members and their families," said Thaddeus Foster, a member of the board at AFFF.
AFFF is unique in that it provides 100 percent of the funds raised directly to the development of permanent or semi-permanent infrastructure projects in the communities where the monies were raised . With no overhead, AFFF is entirely comprised of volunteers, providing donors with the confidence that all contributions will be used to support projects that provide for those who care for our freedom.
To date, the Armed Forces Families Foundation has raised and given back more than $2 million to benefit military families. Recent projects include:
$16,801 to completely furnish the new USO of North Carolina facility located within the Raleigh MEPS and the refurbishment of the USO of North Carolina RDU center
$8,453 toward the outfitting of a new multimedia theater section within the newly constructed USO center at Fort Stewart-Hunter Army Airfield in Fort Stewart, Georgia
$40,000 to install a new playground, accessible to over 800 families stationed on Mayport Naval Base in Jacksonville, Florida
$49,006 to completely remodel and outfit a new recreation lounge at USO Corry Station in Pensacola with supplies and necessities
$35,934 for the creation of a new USO center and family care facility at Coast Guard Training Center Yorktown
$31,978 for the construction of an event pavilion at the Asheville, N.C. VA Hospital
To learn more about AFFF, lend your support or receive updates on new projects, visit www.armedforcesfamiles.org.
About Armed Forces Families Foundation:
The Armed Forces Families Foundation, together with participating Taco Bell and IHOP restaurants, are proud supporters of America's armed forces and their families. Since 2006, the Armed Forces Families Foundation has raised and given back more than $2 million to fund and develop infrastructure projects that support those who protect our freedom.  One hundred percent of every dollar raised goes directly toward projects to improve upon the lives of our service men and women and their families who have sacrificed so much. For more information, please visit ArmedForcesFamilies.org
About Taco Bell
Taco Bell Corp., a subsidiary of Yum! Brands, Inc. (NYSE: YUM), is the nation's leading Mexican-inspired quick service restaurant (QSR) brand. From breakfast to late night, Taco Bell serves made-to-order and customizable tacos and burritos, among other craveable choices, and is the first QSR restaurant to offer American Vegetarian Association (AVA)-certified menu items. Taco Bell and its more than 350 franchise organizations proudly serve over 46 million customers through its restaurants across the nation, as well as through its mobile, desktop and delivery ordering services. Globally, Taco Bell has nearly 7,000 restaurants, including more than 400 restaurants outside the U.S. The brand encourages its fans to "Live Mas" and connects with them through sports, gaming and new music via its Feed The Beat® music program. Taco Bell also provides education opportunities and serves the community through its nonprofit organization, the Taco Bell® Foundation™, and connects fans with their passions through programs such as the Live Mas Scholarship program. In 2016, Taco Bell was named as one Fast Company's Top 10 Most Innovative Companies in the World.
About International House of Pancakes
For 60 years, IHOP has been a leader, innovator and expert in all things breakfast, any time of day. The chain offers 65 different signature, fresh, made-to-order breakfast options, a wide selection of popular lunch and dinner items as well as meals under 600 calories. IHOP restaurants offer guests an affordable, everyday dining experience with warm and friendly service. Today, there are more than 1,750 IHOP restaurants around the world, including restaurants in all 50 states and the District of Columbia, Puerto Rico and Guam as well as Canada, Mexico, Guatemala, Panama, Lebanon, the Kingdom of Saudi Arabia, Kuwait, the United Arab Emirates, Bahrain, Qatar, Thailand, India and the Philippines. IHOP restaurants are franchised by affiliates of Glendale, Calif.-based Dine Brands Global, Inc. (NYSE: DIN).
-30-