AFFF provides funding to help Bay Pines VA with campus beautification, mental health projects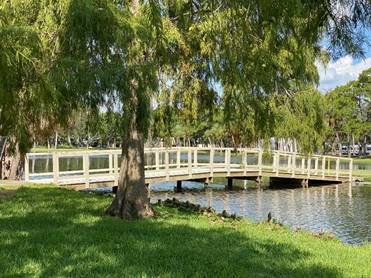 ST. PETERSBURG, Fla. – Bay Pines VA Health Care System (BPVAHCS) Volunteer Services was instrumental in securing two grants from the Armed Forces Families Foundation (AFFF) for projects that directly benefit Veterans and staff.
One of the projects supported by the grants was the replacement of the pedestrian bridge that crosses over Lake Timucuan, located on the C.W. Bill Young campus.
"The grant proposal for the bridge replacement supports the Whole Health Program," said Nate Witt, chief of Volunteer Services. "The C.W. Bill Young campus is a beautiful campus to traverse. When not in the midst of a pandemic, the campus is a great place for Veterans to walk and ride their bikes, supporting an active lifestyle, which we know is important when it comes to whole health."
The bridge replacement also benefits BPVAHCS employees who use the path around Lake Timucuan for walks during breaks or lunch, and during special events like the annual VA2K Walk and Roll, said Witt.
"We estimate the old bridge to be around 40 years old, and it has been out of service for many years," said Frank Jones, Volunteer Services Assistant Chief. "Having an area for our Veterans and their family to walk and relax, greatly lowers their stress levels.
Construction of the new bridge took two weeks to complete by Speeler Companies, a local marine construction and structural repair company.
The second grant will purchase new equipment for a cybercafé in the Mental Health building and to replace outdated personal computers used by Veterans who live in the Veteran Residential Rehab Treatment dormitories.
Armed Forces Families Foundation is a local 501(c)(3) non-profit organization made up of volunteers from many communities across the United States. The focus of the organization is primarily on areas of significant need that often fall outside the tight budget constraints of the military and its family support organizations.
If you or an organization you know is looking for ways to support Veterans served by Bay Pines VAHCS, you can contact Volunteer Services by email at VHABayVoluntary@va.gov or by phone at 727-420-1748.
The Bay Pines VAHCS is one of the nation's leading VA healthcare systems, employing over 4,500 medical professionals and support staff dedicated to providing the very best care to Veterans residing in southwest Florida. The organization is one of the largest VA health care systems in the country in terms of patients served and is accredited by The Joint Commission, Commission on Accreditation of Rehabilitation Facilities, and several other nationally recognized accrediting organizations. The Bay Pines VAHCS operates nine facilities to include the main medical center located in Bay Pines, the Lee County Healthcare Center located in Cape Coral, and seven outpatient clinics located in Bradenton, Naples, Palm Harbor, Port Charlotte, Sarasota, St. Petersburg, and Sebring.